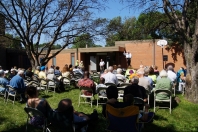 About Our Church
Grace is a 60-year-old congregation with a vision to Make Christ Known in our neighborhood, our community and our world.
Our mission statement is Loving one another, teaching, and reaching out." Various multicultural, multifaith ministry partners meet at Grace each week and offer exciting worship options.
Grace is a place "Where Grace Matters" – in our worship, in our daily lives, and in how we treat our neighbor.
If you are looking for a place where folks  know your name and where grace, spiritual commitment and worship have meaning, we gladly welcome you. We invite you to come and taste the goodness of the Gospel and live it with us.
We're just 1.5 miles from the Mall of America. So if you're new to the neighborhood, or looking for a meaningful church experience, or visiting the Mall of America for some shopping or a ballgame, please don't hesitate to visit us. We know you'll be a blessing to us. Check the list of worship opportunities and make plans to join us!
The coffee pot is waiting.