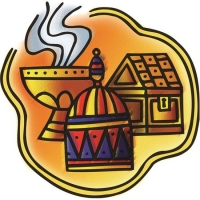 Epiphany 2017
December 26, 2016
The church celebrates the day of Epiphany on January 6, twelve days after Christmas. The church recalls the story (found only in Matthew 2:1-10) of the wise men who came from the East searching for a king born under a star. They met with King Herod in Jerusalem and ascertained that a king was to be born in Bethlehem. Herod directed them to continue their search for this new king.
"When they saw that the star had stopped, they were overwhelmed with joy. On entering the house, they saw the child with Mary his mother; and they knelt down and paid him homage. Then, opening their treasure chests, they offered him gifts of gold, frankincense, and myrrh. And having been warned in a dream not to return to Herod, they left for their own country by another road." (Matthew 2:10-12 NRSV)
The wise men risked much and traveled far to pay homage to the king born under a star in Bethlehem. They came offering their gifts, only to be overcome with joy, not grasping that it was Jesus who provides the greater gift to the world. Aha! God was revealed to the wise men!