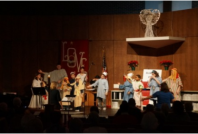 Laura and Emily: 5th – 10th Grades in "The Cave"
Mary: K – 4th Grades
Tara: Music
Laura and Emily's class – A Bible study approach to the lessons. How can students apply the Bible to their everyday lives? 
Mary's class – A fun VBS approach to lessons. Mary also prepares her students for confirmation by focusing on memory work
Music Time – Tara runs music time with the kids for the first 15 minutes of Sunday School. Focusing on songs that reinforce the Bible lessons in church, she also ends music time with the "Doxology".